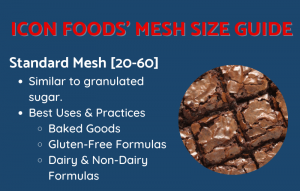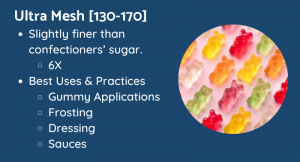 Milling & Mesh Sizes
Finding the correct particle size can be one of the most difficult parts of food and beverage formulation. It can be especially difficult when creating zero sugar formulas that require precise formulation, such as tempering chocolate. Luckily, there is a solution to the particle size problem!
Icon Foods offers food grade custom milling and grinding in a range of mesh particle sizes for a number of our clean label sweeteners. Our large state of the art blenders can accommodate up to 5-ton batches and our small blenders, mills, and pulverizers are ideal for R&D quantities.
Let us help you! Start formulating smooth, nongranular, zero sugar added food and beverage formulas with ease.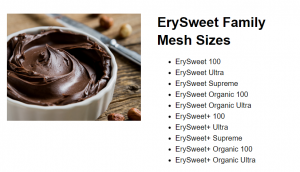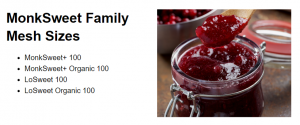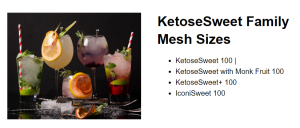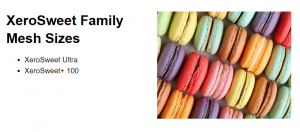 It's Time to Reformulate!
How can Icon Foods help your team stay ahead of the curve? Easily!
When you decide who you want to have as your supply chain partner, take into consideration whether they are single-sourced or multi-sourced. At Icon Foods, our diversified supply chain has enabled us to continue functioning at regular capacity, despite global price increases and shortages. To help reduce operations costs even further, we create custom sweetening blends!
Just like a seasoning house combines blends of spices, colors, and flavorings, Icon Foods utilizes blends of sweetening compounds to deliver the optimum sweetness profile for your products. We can customize these blends to meet your specifications! Maximizing synergies among sweeteners and other ingredients in the formula can reduce the overall cost. Our dedicated R&D Team functions in tandem with the Quality Control Team, to ensure the privacy of your formulas and quality of the sweetening blend. Still unsure? Let us help you get started! Click on the red button at the bottom of this page to receive your free Clean Label Sugar Reduction Tool Kit! A representative will reach out to help you determine your business needs. From there, you'll be sent free samples and informative guides.
Sources
Crane, Michael. "Sweeteners with Reduced Particle Size Allow for More Precise Processing, Steviva Says." Nutritional Outlook, Nutritional Outlook, 15 Nov. 2020, https://www.nutritionaloutlook.com/view/sweeteners-reduced-particle-size-allow-more-precise-processing-steviva-says.

Gelski, Jeff. "Sweeteners with Smaller Particle Sizes May Save on Costs." Food Business News, Food Business News, 19 Apr. 2016, https://www.foodbusinessnews.net/articles/7808-sweeteners-with-smaller-particle-sizes-may-save-on-costs.

Pyler, E.J., and Laurie Gorton. "Pyler Says: How Commercial Sugars Differ." Baking Business, Baking Business, 10 Nov. 2020, https://www.bakingbusiness.com/articles/39615-pyler-says-bakers-have-many-sugar-choices#:~:text=Average%20particle%20size%206X%20sugar,through%20a%20325%2Dmesh%20screen.