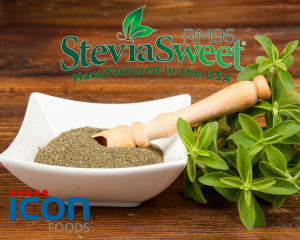 Original article posted on Food & Beverage Insider. 
Business Bites: Gelato gets the ultimate vegan makeover, new stevia sweetener for F&B
Article by Heather Carter & Tedi Delashmet, with insights from Icon Foods
Icon Foods unveils new natural sweetener for food and beverage products
Ingredient supplier Icon Foods recently launched SteviaSweet RM95, a high-intensity, zero-calorie natural sweetener. The product is a stevia extract powder made with a minimum 95% concentration of Reb (Rebaudioside) M stevia, one of the many steviol glycosides in the stevia plant (Stevia rebaudiana). It can be used as a sweetness or flavor modulator and works well with other high-intensity sweeteners. The company said Reb M has less bitter aftertaste, less sourness, less licorice and leafy notes and lower astringency compared to Reb A. SteviaSweet RM95 is manufactured in the United States from stevia leaves grown in Peru and is suitable for various applications, including beverages, dairy products, baked goods, condiments and nutraceuticals.
Reach out to sales@iconfoods.com for free samples and proven formulas. 
Food & Beverage Insider | Operations
Carter, Heather, and Tedi Delashmet. "Business Bites: Gelato Gets the Ultimate Vegan Makeover, New Stevia Sweetener for F&B." Food Beverage Insider, 26 June 2023, www.foodbeverageinsider.com/operations/business-bites-gelato-gets-ultimate-vegan-makeover-new-stevia-sweetener-fb.