SteviaSweet RM95 | Balanced Sweetness Made Simple
SteviaSweet RM95 is stevia extract powder with a minimum of 95% concentration of rebaudioside M—one of many steviol glycosides found in the Stevia rebaudiana plant. Steviol glycosides are the group of sweet constituents which reside in the stevia rebaudiana leaf, giving it its telltale sweet flavor. This stevia sweetener provides a clean, sweet taste in a variety of applications, such as Carbonated & Non-Carbonated Beverages, Confections, Dairy & Dairy Alternatives, and Condiments. The high purity and neutral profile make SteviaSweet RM95 the choice of formulators in many applications. Typical use levels can be found in the table below. For specific formula guidance, please contact us!
Usage Levels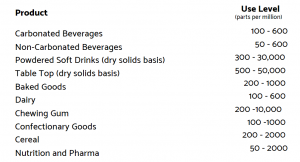 Less Sugar, More Taste
Taste tests have shown that SteviaSweet RM95 matches the taste of sugar in an exceptional manner. This stevia sweetener delivers many benefits for food and drink manufacturers and their consumers—enabling consumers to enjoy the products they know and love, with less added sugar, better nutrition, fewer carbs, and without the worry of artificial sweeteners.
Independent Blind qualitative descriptive analysis (QDA) taste testing found that SteviaSweet RM95 delivers a natural sweet taste, very comparable to sugar in water. The QDA "spider plot" (see graph 1), illustrates that SteviaSweet RM95 nearly overlays sugar with very minor differences in sweet aftertaste. The sweet taste profile allows formulators to work with SteviaSweet RM95 without the need for expensive taste modifiers or having to make concessions to taste while still creating a product which is naturally sweetened with zero calories!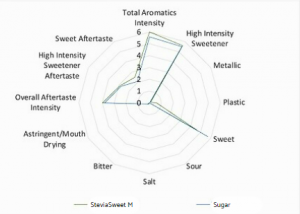 Graph 1
Samples tested at 400 ppm, sweetener to 7.5% sucrose solution, analyzed for flavor, aftertaste, and texture by members of an independent trained panel, presented blind in a monadic sequential balanced design with two replicates of each sample.
SteviaSweet RM95 Applications