Consumers Want Zero Sugar Added Treats
The USDA wants to crack down on added sugar! Recently, the agency proposed a limit to the amount of added sugar allowed in school lunches (1). The new limit aims to eliminate the negative side effects that come with excessive sugar consumption—which are felt by children and adults alike. In fact, a recent survey by Sugarbreak found that "71% of Americans say they have had a sugar crash as a result of eating sweets/carbs…" (2). Talk about wavering blood glucose levels! In an even more interesting turn, a recent report by Mintel revealed that 74% of consumers want to cut back on sugar—believing a healthy diet equals lower sugar levels (3). What does this mean for food and beverage manufacturers? It means, consumers want sweet, decadent treats—zero sugar added with no compromise on flavor or mouthfeel!
Zero Sugar Added SweetBitz
Icon Foods meets this need with our Zero Sugar Added SweetBitz Inclusions! Our inclusions are clean label, non-GMO, and made with natural, low-calorie sweeteners—monk fruit, allulose, erythritol, and stevia. This ever-expanding portfolio adds flavor, texture, visual appeal, and function to a variety of applications. With the FDA's proposal for front-of-package labels looming and consumer demand for inherently healthy ready-to-eat products on the rise, the time to reformulate has arrived! We've recently added new Bitz fruit and mint chocolate flavors to our SweetBitz line. Contact us for formulation and reformulation insights today!

It's Time to Reformulate!
How can Icon Foods help your team stay ahead of the curve? Easily!
When you decide who you want to have as your supply chain partner, take into consideration whether they are single-sourced or multi-sourced. At Icon Foods, our diversified supply chain has enabled us to continue functioning at regular capacity, despite global price increases and shortages. To help reduce operations costs even further, we create custom sweetening blends!
Just like a seasoning house combines blends of spices, colors, and flavorings, Icon Foods utilizes blends of sweetening compounds to deliver the optimum sweetness profile for your products. We can customize these blends to meet your specifications! Maximizing synergies among sweeteners and other ingredients in the formula can reduce the overall cost. Our dedicated R&D Team functions in tandem with the Quality Control Team, to ensure the privacy of your formulas and quality of the sweetening blend. Still unsure? Let us help you get started! Click on the red button at the bottom of this page to receive your free Clean Label Sugar Reduction Tool Kit! A representative will reach out to help you determine your business needs. From there, you'll be sent free samples and informative guides.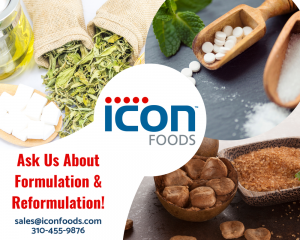 Sources
Gelski, Jeff. "USDA to Regulate Added Sugars in School Meals." Food Business News, Food Business News, 6 Feb. 2023, https://www.foodbusinessnews.net/articles/23166-usda-to-regulate-added-sugars-in-school-meals.
Sugarbreak. "Survey Finds 67% of Americans Typically Eat Chocolate on Valentine's Day." SURVEY FINDS 67% OF AMERICANS TYPICALLY EAT CHOCOLATE ON VALENTINE'S DAY, 9 Feb. 2022, https://www.prnewswire.com/news-releases/survey-finds-67-of-americans-typically-eat-chocolate-on-valentines-day-301478271.html.
Walji, Amrin. "A Year of Innovation in Baking Ingredients & Sugar, 2022." Mintel, https://clients.mintel.com/content/report/a-year-of-innovation-in-baking-ingredients-sugar-2022?fromSearch=%3Ffreetext%3Dsweeteners%26resultPosition%3D14.