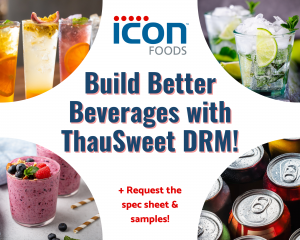 Build Better Beverages with ThauSweet DRM!
ThauSweet DRM is a proprietary blend of soluble tapioca fiber, thaumatin, and stevia rebaudioside M. Approximately 20 times sweeter than sugar, ThauSweet DRM utilizes soluble tapioca fiber derived from cassava root as a carrier to create a plug-and-play replacement for sugar. Because it is clear in solution and able to withstand vigorous processing conditions, soluble tapioca fiber is well suited for beverages, confections, condiments, and sauces. In all applications, this RS4 resistant dextrose adds bulk without grittiness while contributing to fiber on the NFP. Rounding out the blend is stevia reb M & thaumatin. Thaumatin is one of the sweetest natural substances known to man but is almost exclusively used for its flavoring characteristics—flavor and sweetening modifying effects which occur at very low inclusion levels of less than .05%.
Manufactured in the USA, Icon Foods' stevia reb M is stevia extract with a minimum of 95% concentration of rebaudioside M—one of the many steviol glycosides found in the Stevia rebaudiana plant. This non-caloric, natural sweetener is clean and neutral in taste. Both high intensity sweeteners function as flavor modulators to ensure balanced sweetness levels. When used in combination, stevia reb M and thaumatin can help diminish off-notes while enhancing desirable flavors. Although ThauSweet DRM works well in many applications, it was specifically formulated with beverages in mind. This blend's suggested usage levels range between 0.5%-1.25% depending on the application; it can also be labeled as a "natural flavors" on the ingredient dec. ThauSweet DRM is non-GMO and kosher. Because our ThauSweet DRM is derived without the use of chemicals, it can be used to support a clean label claim.