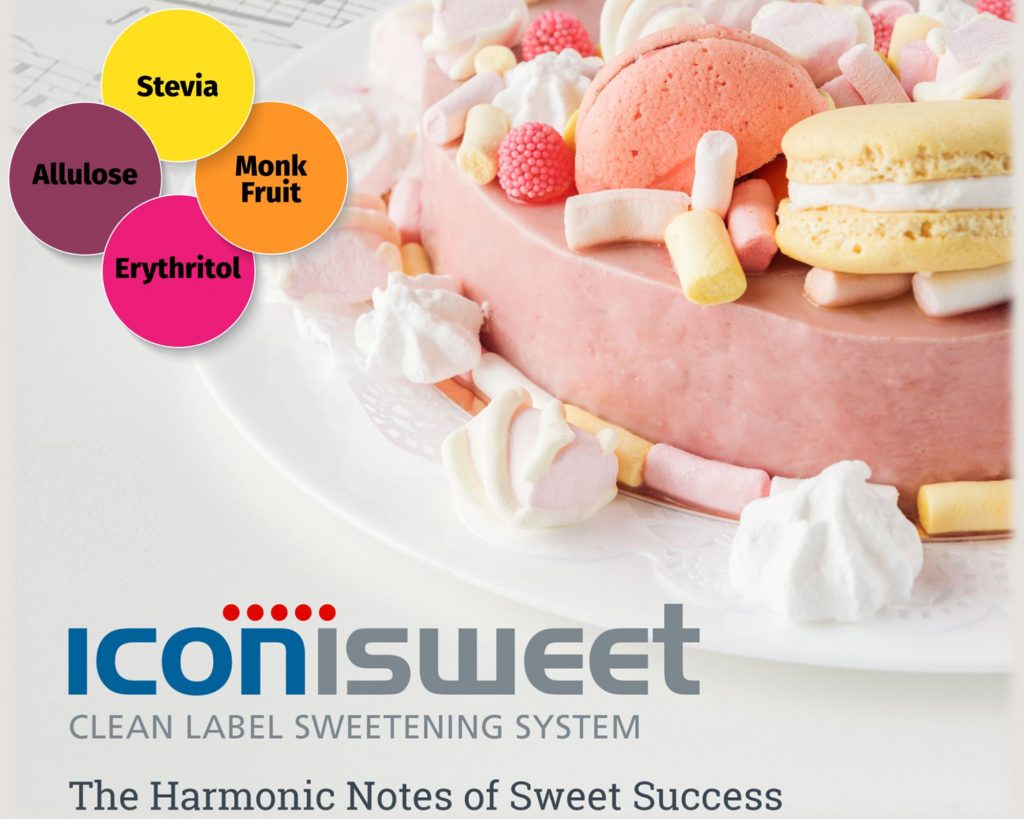 Natural Sweetening Compounds Working Together
At Icon Foods, we specialize in crafting sweetening systems in a range of particle (mesh) sizes. Natural sweeteners often deliver sweetness quickly and dissipate rapidly, leaving unpleasant afternotes. We've taken the guesswork out of the formula! We start with a blend of bulk sweeteners (erythritol and allulose) and particle milling/high intensity natural sweeteners (stevia and monk fruit) to create a synergistic sweetening system that helps solve this puzzle. IconiSweet—one of our most inclusive blends—delivers the optimum sweetness profile for your products! Maximizing synergies among sweeteners and other ingredients in the formula can reduce the overall cost. Our dedicated R&D Team functions in tandem with the Quality Control Team, to ensure the privacy of your formulas and quality of the sweetening blend.
Let's Break it Down:
Erythritol is a great bulk sweetener but can cause a cooling effect and is only 60-70% as sweet a sugar.
Stevia and monk fruit extract are natural, high intensity sweeteners, but do not provide the bulk necessary when replacing sugar in a formulation.  They also have unappealing off-notes when used too liberally.
Allulose is the new kid on the block! This up-and-coming bulk sweetener, unlike erythritol, participates in the Maillard reaction—it will brown, melt and caramelize. Allulose is only 60-70% as sweet as sucrose, and when used in high concentration, can be responsible for burning; as the melting point and browning point for allulose is lower than sucrose.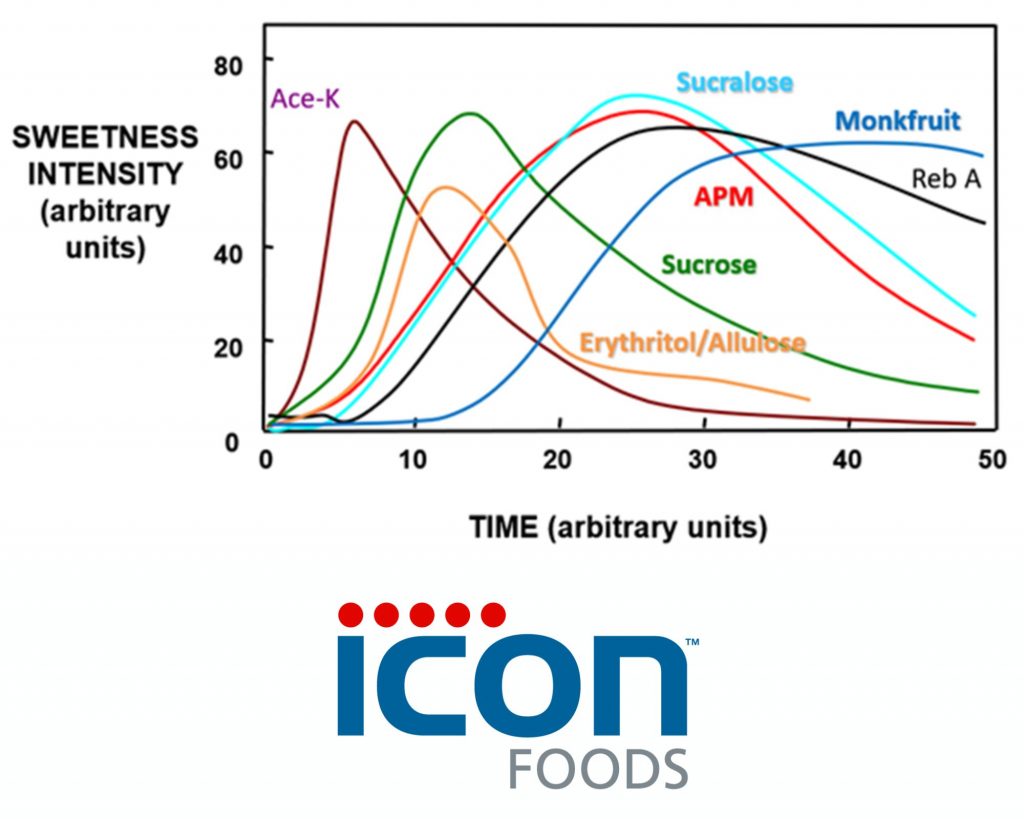 Introducing IconiSweet
IconiSweet brings allulose, erythritol, monk fruit and stevia into perfect proportion—masterfully striking the chord of balanced flavor and clean label. In any formula, this sweetener's flavor is constant, thereby reducing the need for additional modifiers. Time on the bench is reduced as one ingredient replaces four. Whether the goal is a reduced sugar claim, a no sugar claim, or reduction of declared added sugar, being given a starting range of ingredient usage in a given food system, further reduces the number of attempts at the bench. Since this sweetening system does not contribute added sugars, the Nutrient Facts Panel maintains a healthy halo with negligible calories contributed—one hundred grams of IconiSweet only has 20 calories.​
Maximizing Synergies:
The perfect ratio of monk fruit and stevia cancel each other's off-notes and increase the sweetness of the allulose and erythritol—making it the ideal 1:1 sweetening solution and a direct replacement for sucrose.​
IconiSweet incorporates allulose for its sugar-like mouthfeel and flavor, as well as it's humectant property and ability to brown, melt, and caramelize.
IconiSweet uses erythritol to replace volume and provide structure similar to sugar. It also keeps the overall calories down. Because of its low molecular weight, erythritol lowers water activity—a benefit in extending shelf life in baked goods.​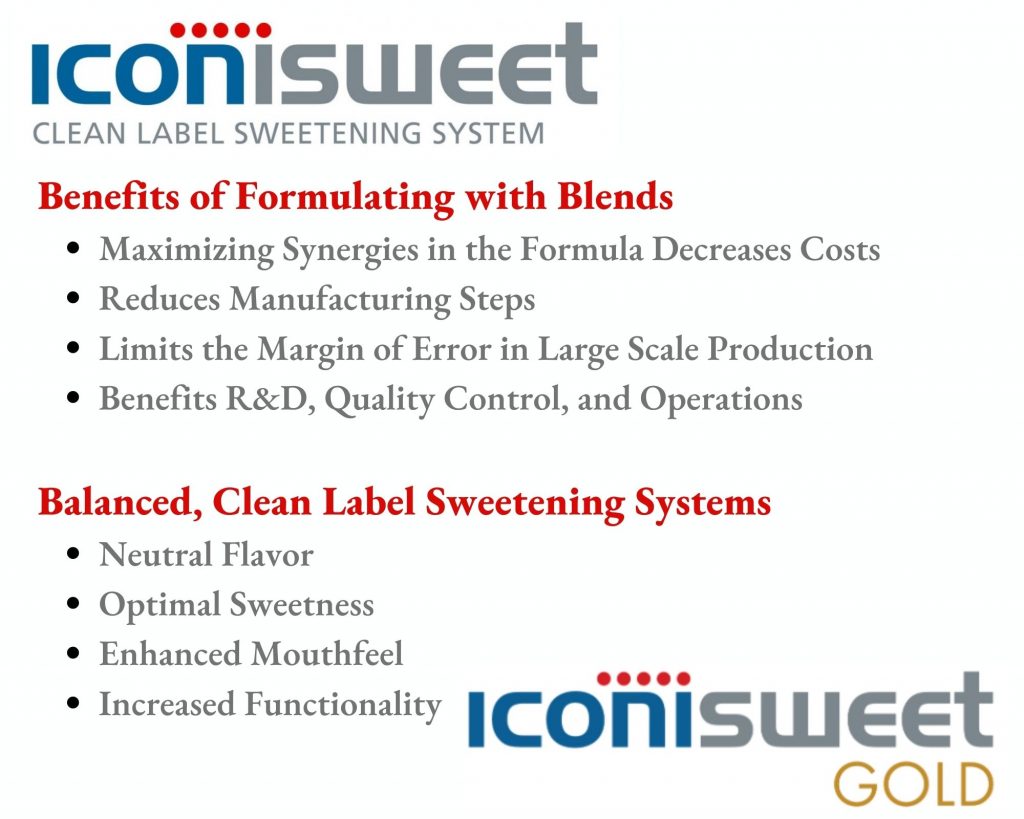 Meet the Family!
IconiSweet: Balanced Sweetening Simplified
Icon Foods' IconiSweet is a crystalline blend of erythritol, allulose, stevia extract, and monk fruit extract. These high intensity sweeteners work together to create a sweetener with limited off-notes and the capability to participate in the Maillard reaction. Off-notes from stevia and monk fruit are mitigated by erythritol and allulose, presenting a clean flavor profile that reduces the need for additional modifiers. We also offer this blend in a 100 mesh, for a fine powder that can replace confectioner's sugar.
IconiSweet Gold: The Golden Ticket to Brown Sugar Replacement
This product will be launching soon! In the meantime, we're giving you an exclusive look at our development board. The gold standard for natural brown sugar substitutes, our IconiSweet Gold features a blend of erythritol, allulose, and monk fruit. It measures, tastes, and acts like traditional brown sugar without the impact to the glycemic index or the negative attributes of refined sugar. With only 35 calories per 100 grams, this brown sugar alternative contributes no added sugar. Featuring a warm hint of molasses, and that classic golden hue, the flavor and texture make IconiSweet Gold an easy plug-in for baking, cooking, and beverages!